Michael Braungart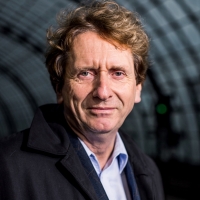 Position:
CEO of EPEA and Co-founder of MBDC
Organization:
EPEA and MBDC
Professor Dr. Michael Braungart
Michael Braungart is CEO of EPEA, Environmental Protection and Encouragement Agency in Hamburg, Germany, which was founded in 1987; co-founder of MBDC, McDonough Braungart Design Chemistry in Charlottesville, Virginia (USA) and founder of the Hamburger Environmental Institute (HUI). For decades, he pioneered the Cradle to Cradle design concept. He has worked with various organizations and companies across a range of industries, and has developed tools for designing eco-effective products, business systems and intelligent materials pooling. Michael Braungart holds the Academic Cradle to Cradle Chair for Innovation and Quality at RSM, Erasmus University in Rotterdam and is professor at the Leuphana University in Lüneburg.
EPEA Internationale Umweltforschung GmbH
Cradle to Cradle is being implemented by EPEA (Environmental Protection Encouragement Agency), an internation­ally active scientific research and consultancy institute. EPEA works with companies as well as stakeholders from industry, science and government to implement Cradle to Cradle materials management throughout the supply chain. Chemistry, biology and environmental science are getting combined with product optimization and product development. Through this interdisciplinary approach, the institute goes beyond conventional boundaries to improve the whole system of materials use and reuse. The scientific basis lies at the Cradle to Cradle design concept. Their goals are innovation, quality and good design in order to optimize the quality and use­fulness of materials, products and services through eco-effective design - and thereby, to have a positive impact.